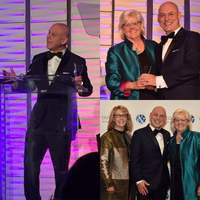 ​Recently, three Xerox employees received awards honoring many years of hard work. Each of these individuals has helped to make Xerox the company it is today: diverse, inclusive, and environmentally focused.

Out & Equal Workplace Advocates has named John Curtis – a 33-year Xerox vet who has been a long-time leader in our GALAXe caucus group – as a 2017 Out & Equal Outstanding Champion. This award recognizes John's "unparalleled commitment to LGBT workplace equality and his incredible success creating a diverse, inclusive workplace for everyone in the LGBT community." John has worked on diversity and LGBT efforts in Xerox and the community for over 25 years.
Checkout the CREATIVE 9 word speeches given by 2017 LGBT Champion Winners, video here: http://ow.ly/Rm0m30bcuMF

Environmentalleader.com included Wendi Latko – head of our Environment, Health, Safety and Sustainability organization – in their inaugural list of the 50 top environmental leaders. This award rewards individuals "driving their companies – and the EHS [environment, health and safety], environmental and sustainability management industry itself – forward."

Across the Atlantic, Paloma Beamonte, who leads Xerox Spain and Portugal, was selected to participate in Spain's Women´s International Day. Additionally, Paloma's initiatives helped to garner a 'Distintivo de Igualdad' (equality distinction) award by the Spanish Ministry of Health, Social Policy and Equality.

Congratulations John, Wendi and Paloma, and thank you for all you've done for Xerox.
---