HRC Spring Dinner - Xerox, Corporate Equality Award
Register Now!
Or paste this link in your browser's address bar: https://one.bidpal.net/hrcwny/welcome
Rochester's Spring GALA Dinner for HRC – 300-500 folks have gathered in years past to support the Empire State Pride Agenda, Equality NY and this year, the Human Rights Campaign. It is the event of the season – with political leaders, dignitaries, celebrity hosts and this year, Xerox and our LGBT employee resource group, GALAXe, are being recognized with their Corporate Equality Award.
The HRC Western NY Dinner Planning Committee cordially invite you to join us as we come together as a community and work towards full LGBTQ equality and civil rights.
Follow our HRC Western NY Facebook page and 2018 HRC Western NY Dinner pages - for updates on the Spring Dinner plans and announcements;

Good friends, good food, exciting speakers and guests - and a dance party to cap off the evening for a great cause!

Ticket Information: https://one.bidpal.net/hrcwny/welcome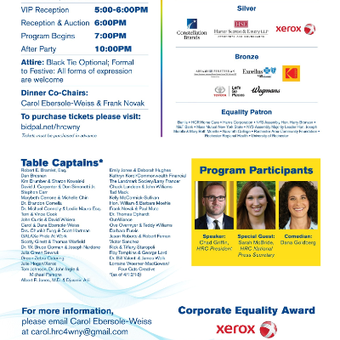 123 E Main St, Rochester, NY 14604, USA